Journalists to lose pre-release access to official statistics?
Journalists may have to face the ending of the system by which they get an early sight of official statistics, under embargo.
The Statistics Authority has made it plain it wants the procedure to be terminated. In a statement on May 11 after some education statistics crept out early, the authority said it was reviewing arrangements for pre-release access, and that its view was that it should be eliminated.

In evidence given by the authority's chairman, Sir Michael Scholar, to the Commons Public Administration Select Committee last November, this position was made abundantly clear. Asked by Paul Flynn MP if he supported the idea of eliminating the pre-release period altogether in order to increase trust, Sir Michael said: "Very much so. I start from the principle that statistics should be published at the same time for everybody. Everybody should have access to them at the same time. If there is any departure from that principle people naturally assume that somebody has been up to mischief."

If the authority gets its way, it is heading for a clash with journalists and, in some cases, also with the Government departments that issue the statistics.

Take the data that make up the annual school league tables. Traditionally journalists have been given not 24 hours, but a full five days' access to this data before its formal release. It is a huge dataset, covering thousands of schools, and having access long in advance enables reporters to pick out schools that have done well, or badly, and arrange interviews and visits in advance. It also enables them to generate the "League Tables" - of which the department officially disapproves, but does not mind appearing if it can disavow responsibility.

The legislation setting up the Statistics Authority set a limit of 24 hours rather than a week, which caused trouble. Education Correspondents complained so bitterly that Ed Balls, the Secretary of State, promised to review the issue and try to get the law changed to restore 5-day access.

But it is plain that the Statistics Authority will resist such a change. The embargo breaches on the Achievement and Attainment Tables for National Curriculum Assessments at Key Stage 2 in England in 2007-08 gave it a lever to help enforce its view.

These statistics were made available 24 hours early under embargo to accredited press organisations. They were embargoed for 9.30 am on April 1, but several media organisations chose to make an April Fool of the DCSF by busting the embargo.

The offenders on this occasion included The Independent, The Halifax Courier, This is Lancashire, This is Gloucestershire, Yorkshire Evening Post, This is Plymouth, Manchester Evening News and Scarborough Evening News.

Here's how The Independent's website reported the story on April 1.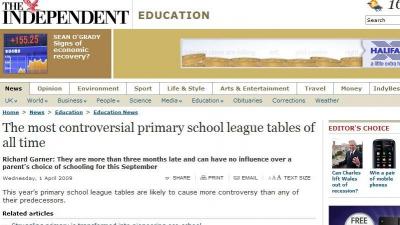 The breaches were accidental, and a consequence of 24-hour web-based journalism. Reporters wrote their copy, then left it in overnight "news baskets" to be uploaded by web teams, who appear to have been unaware of the embargo. So in these cases, stories based on the statistics appeared before the statistics had actually been released.

The DCSF says it will reinforce advice to journalists about embargoes, but it seems unlikely this will be enough for the Statistics Authority. It would like to see any pre-release of statistics curtailed, and preferably eliminated - including access to ministers. By doing that it believes it can enhance the credibility of official statistics and dispel the notion that ministers might be using early access to spin the figures to suit their own purposes – as if they would.

Would this be a serious handicap to reporting? Alex Frean, Education Editor of The Times, says it is "a huge issue" for education correspondents. She believes embargoes are sustainable if all journalists likely to handle the copy are properly briefed. But the Statistics Authority says there are "tens of thousands" of journalists on the lists for embargoed statistics and doubts that in the days of 24-hour journalism any embargo can be made secure. In any case, it says, pre-release access is inconsistent with legislation and with the Government's policy.

Stand by for a row.