Police face a crunch on numbers
No sooner are they in power than the Tories give us all a fright over law and order.

Within days of 'winning' the May 2010 general election the coalition's new Chancellor, George Osborne, revealed that Britain's Police Service would be bearing the brunt of a £367 million cut in the Home Office's budget. Chief Constables around the country are working out the implications for manpower, and warning of cuts.

So far most of the political noise has been in Scotland, but yesterday the Chief Constable of Kent, Ian Learmonth, warned of potential losses of 1,000 civilian and 500 police jobs in his force – a challenge "unprecedented" in his 36-year career (Daily Telegraph, page 12). A spokesman for the Police Confederation warned last week that even the police training centre at Hendon might not be spared. (Mirror, 28 August, p11)

When in opposition the Tory front bench gave the Labour government a hard time over police numbers. For the whole of the last parliament Gordon Brown, as Chancellor and later Prime Minister, tried to persuade honorable members that spending on police was increasing and police recruitment improving.

So how many police are there on our streets? And how do their numbers compare with police forces abroad?

Police numbers in England & Wales are now at a historic high, after rising swiftly in the years between 2001 and 2005 (Fig 1, below). Including British Transport Police and officers seconded to Central Services, the headcount stood at 146,912 on March 31 this year, one more than the same time in 2009. But the number the Home Office prefers, a headcount of staff available for duty, was 141,699, just 35 lower than last year.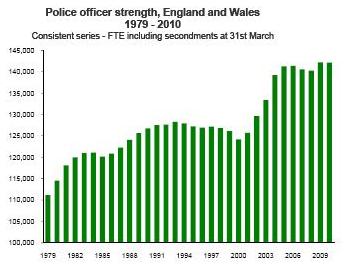 There are large numbers of supernumeraries: 83,390 supporting staff, 16,696 Community Support Officers, 420 traffic wardens and 3,897 designated officers working for bodies such as HM Inspectorate of Constabulary. All told, the numbers amount to 246,072. The comparable figure for 2009 was 243,776. So while the total headcount has grown, most of the growth in the past year came from support staff, up from 82,705 to 83,390, and designated officers, whose numbers grew from 3,119 to 3,897.

Growth was not uniform. Fifteen forces increased their numbers and 27 reduced. The Metropolitan Police, which represents more than 23 per cent of the entire force, grew by the greatest number (756 officers, or 2.3 per cent).

How do these numbers compare internationally? The source of the comparative data is the UN, with all the caveats that such a source implies. The figures are also out of date, with 2006 the most recent year available, and many countries reporting figures for earlier years. Inspector Clouseau must have been in charge of submitting the French figures, which are for 2000. But they are the best we have.

Fig 2 (below) shows police numbers per 100,000 people for a number of countries, taken from the eleventh report of the UN Office on Drugs and Crime, and the year to which they apply.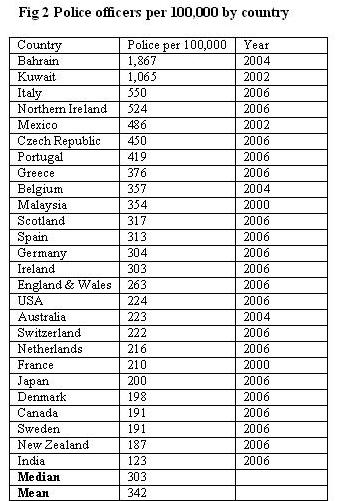 These figures suggest that even though police numbers in the UK may be at a historic high, they are not particularly high by international standards. England & Wales' numbers are below the mean and the median, although by European standards they are middle-of-the-road. The mean for 21 European countries listed by the UN (not all included in Fig 2) is 273. By that measure, England & Wales is close to average.

Scotland employs slightly more policemen per head, possibly another consequence of the Barnett Formula rather than any evidence of greater propensity to wrongdoing in Scotland, and Northern Ireland, not unexpectedly, considerably more. Comparing the numbers cited for England & Wales by the UN with Home Office data gives good agreement. It is not possible to be so sure about the other figures in Fig 2: Bahrein and Kuwait seem heavily over-policed.

Whatever the outcome of the election, the Association of Chief Police Officers knew it had to brace itself for a pruning back. This has already begun. By January 2010, the Daily Telegraph reported, at least 12 police forces were reducing the number of full-time officers, despite a pledge by the Government to protect law and order from the impact of public sector cuts, with Manchester planning to shed 300 jobs. Many of the affected forces reportedly planning to use special constables (unpaid volunteers) to plug the gaps.

By last month most forces and chief constables were ready with plans to find savings in a variety of ways : by overhauling police pay; restructuring bonus payments; re-designing hours worked; and eliminating outdated work practices, all designed to give senior officers critical flexibility."

The impetus of this is the need for spending cuts. But where are these cuts and saving to be made and what are they ? Since becoming Chancellor, George Osborne has identified:
A police service where 80 per cent of costs go on wages
Officers including very senior officers have second jobs
A few constables can earn an additional £50,000 by overtime (Metropolitan Police)
Overtime payments in England & Wales soared by around 90 per cent between 1999 and 2009, hitting £400 million last year
Overall policing costs grew by 48 per cent over the 10-year period, from £9.8 billion to £14.5 billion.
There were 83,390 civilian staff last year, up from 52,975 a decade ago
No wonder that ACPO recognises that it police forces are to meet the £135 million sought in efficiency savings, an urgent reform of pay structures is well overdue.

There seems little chance that any cuts can be offset by recovering money from convicted criminals under the 2002 Proceeds of Crime Act. Recovering £137m in 2008 might sound like a success but David Blunkett MP, another former Home Secretary, commented, "I would've thought somewhere between £500 million and £800 million a year, would have been a reasonable target to have reached at this juncture."

Promises of saving a further £34 million by spending more money to recover 'more money and assets from criminals' using a failed system convinces few. The savings are going to have to come from a cut in numbers. Get ready for plenty of promises that the "front line" will be protected in the carnage to come.