Beware of lawyers bearing gifts
The Independent on Sunday (last Sunday) and The Times (today) have run identical stories saying that the number of contested wills is rising, blaming the recession, remarriage, divorce and the house price boom for the increase. Disinherited heirs are suing in unprecedented numbers as the amounts at issue increase, the stories said. Here's today's Times headline: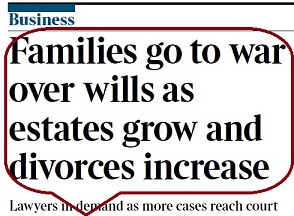 The source of both stories is the same – London lawyers Wedlake Bell. They say cases contested in the High Court rose from 80 in 2008 to 110 in 2009. As recently as 2006, there were only ten such cases, both stories helpfully add.

The figures are right, but do they bear the interpretation put on them? If you consult the Judicial and Court Statistics, it's clear that to pretend there's a steadily rising trend is unjustified. Table 1 shows the number of inheritance disputes heard by the Chancery Division of the High Court since 2002.





As long ago as 2003, 82 cases were heard, and the variation year to year is huge. There's no discernible trend: some low years, and some high. By choosing the 2006 figure as a base, Wedlake Bell has made the increase look far more impressive than it actually is.

They aren't the first solicitors to make such claims. In August 2009, Solicitors Journal ran an article based on claims from Hewitsons, a law firm with offices in Cambridge, Northampton and Saffron Walden. Lucinda Rowley, a solicitor with Hewitsons, used the statistics of contentious probate cases to make the same point. She was quoted as saying there had been a 45 per cent rise in cases of contested wills, from 73 in 2007-08 to 106 in 2008-09.

As Table 2 shows, what she probably meant, or may have said, was a rise from 73 in 2006 to 106 in 2008, but this was an even more unjustified claim than Wedlake Bell's. Probate disputes had hit an even higher figure in 2007, and had actually declined year-on-year when she was claiming they were increasing. Again, the time series from 2002 shows no significant trend.

What's the message? Beware of solicitors bearing gifts. The evidence they are offering wouldn't stand up in court.

And journalists might try checking the claims. Isn't that what they are supposed to do? The Judicial and Court Statistics are exemplary in their clarity and ease of access. There's no excuse for taking claims on trust when they are so simple to check.