Obesity: is the future as gross as it seems?
Did you know the Government has a Children's Plan, aimed at making Britain the best place in the world to grow up? Neither did I.
The fear is that consumerism is skewing children's values, according to Ed Balls, Secretary of State for Children, Schools and Families. Along with Andy Burnham, who's responsible for Culture, Media and Sport, he set up an academic panel to look at how the commercial world is affecting children's lives. David Buckingham, Professor of Education at London University, chairs the panel, which was due to submit its report in March. It has yet to be published.
One key issue is whether the food industry, with its huge reach and clamorous marketing, is contributing to obesity. The Government's bible on this subject is the Foresight Report, Tackling Obesities, published in 2007. It reached some alarming conclusions.
"By 2050, Foresight modelling indicates that 60 per cent of adult men, 50 per cent of adult women and about 25 per cent of all childen under 16 could be obese ...The NHS costs attributable to overweight and obesity are projected to double to £10 billion by 2050. The wider costs to society and business are estimated to reach £49.9 billion per year (at today's prices)".

Professor Buckingham's panel is set to give these projections a good academic kicking. Look out for the technical appendix to the report, which says:
"We note that these projections are based on extrapolating 12 years' data (from 1993 to 2004) a further 46 years to 2050, with apparently no theoretical justification for the particular extrapolation model. In our view, it would have been preferable to employ a range of complementary models, including a 'causal' model using an analysis and projection of explanatory variables (Armstrong, 1978), especially given the limited historical data and the very long-term nature of the forecasts

"Such projections should also take into account the likelihood that, even without government intervention, over a 46-year interval, a significant number of people will modify their diet and lifestyle to limit their weight gain and that companies will develop increasingly palatable lower-calorie food products, and other products and services, to exploit the resulting market opportunities.

"Alternatively, it might be better simply to acknowledge that we currently have no scientific basis for making such long-term projections."

The Foresight modelling report includes some graphs illustrating these heroic extrapolations. They are an abomination, one member of Professor Buckingham's panel says. Here's one: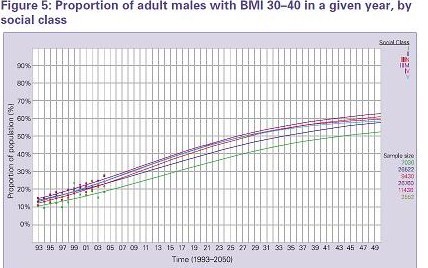 The panel is not complacent about obesity, recognising that the increases that have already occurred represent an urgent health challenge. But it clearly has little faith in projections that envisage a world of ungainly tubbies waddling from one fast meal to the next.